Samer Jaber, M.D., is a board-certified dermatologist who treats all ages and skin types and provides comprehensive medical and cosmetic dermatologic care for every patient. He is certified by the American Board of Dermatology and is a fellow of both the American Academy of Dermatology and the American Society of Dermatologic Surgery and the Founder of Washington Square Dermatology.
Dr. Jaber is an Assistant Clinical Professor of Dermatology at the Icahn School of Medicine at Mount Sinai, where he teaches medical students and dermatology residents. In recognition for his work, he received the "Teacher of the Year Award" in 2012, the "Teaching Excellence Award" in 2013, and "Mentor of the Year Award" in 2015 and "Excellence in Teaching Award" in 2016. Dr. Jaber has also been acknowledged on many "Best Doctor" lists and was selected as a New York Times "Super Doctor Rising Star" in 2015 and 2016.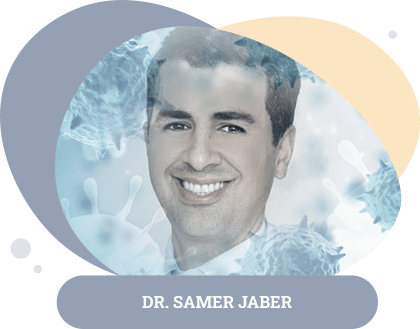 Dr. Jaber graduated with honors from the University of Florida, and received his medical degree from the Vanderbilt University School of Medicine. While in medical school, he was selected for the prestigious Clinical Research Training Program fellowship at the National Institutes of Health. At the NIH, Dr. Jaber studied T-cell immunology and skin reactions in patients with melanoma being treated with a novel anti-cancer immune agent. He subsequently completed an internship in internal medicine at St. Vincent's Hospital Manhattan and his dermatology residency at the University of Rochester, where he was appointed chief resident.
Dr. Jaber's dedication to the dermatology specialty is especially evident in the time he spends volunteering both locally and abroad. He donates his services at events ranging from community fairs to professional sporting events, but his true passion lies in service opportunities abroad. Dr. Jaber proudly serves as a founding advisory board member for the Vaseline Healing Project, an international health project aimed to improve the skin health of those suffering from refugee or crisis situations.