Dermatologist in NYC
Welcome to the office of Dr. Adelle Quintana, Laser & Mohs Dermatology of New York, where you will receive expert treatment by a Medical Director and Board Certified Dermatologist with 20 years of experience. Our office is conveniently located in Times Square and is open from 8 AM to 8 PM in order to accommodate patients with appointments scheduled before work, during lunch, and after work.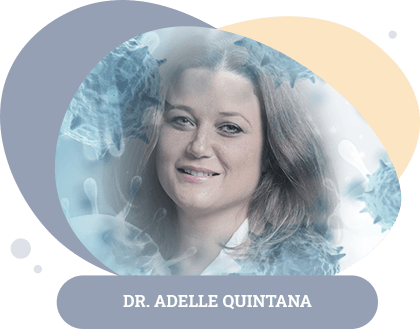 Dr. Quintana provides her patients with comprehensive assessment and treatment, personally designed to maximize each patient's overall dermatological health.
"Dr. Quintana is thorough, efficient, and pleasant. The office is spirited and efficient. A super smart doctor combined with little waiting time." – Janet A.
Dr. Adelle Quintana was voted Best Dermatologist in NYC by Three Best Rated! Dr. Quintana was handpicked and faced a rigorous 50-Point Inspection, which includes customer reviews, history, complaints, ratings, satisfaction, trust, cost, and general excellence.
Dr. Quintana's Expertise
Our medical services include the detection and treatment of all skin diseases and conditions as well as the latest advances in skin cancer screening and treatment. Dr. Quintana is a trained surgeon certified to perform the Mohs Surgical Technique. Mohs surgery offers the highest possible cure rate for skin cancers and simultaneously minimizes the sacrifice of normal tissues. We also offer the latest aesthetic procedures to help fight the aging process. These include injectables, chemical peels, microdermabrasion, and a variety of lasers for treatment for skin rejuvenation, hair removal, brown spot removal, creation of collagen, reduction of wrinkles, and minimization of scarring including acne scars.You will be seen by a doctor who participated in the original research that brought products such as Restylane, Sculptra, and Dysport to market. She is also a certified trainer of Restylane and Perlane, teaching other doctors proper injectable techniques. Dr. Quintana was voted Newsweek's "Best in New York Dermatology 2010.
Aside from specializing in aesthetics procedures, Dr. Adelle Quintana is a Board Certified Dermatologist. Dr. Quintana is committed to caring for the health of her patients and all of their skin care needs. General dermatology, treating the largest organ of the body, covers a wide range of services. Dr. Quintana treats all skin ailments including acne, rosacea, eczema and warts.
Dr. Quintana's Credentials
Dr. Quintana is an attending physician at New York University Medical Center and Metropolitan Hospital, where she provides training and instruction to residents. Dr. Quintana is a member of many local, national and international medical societies.
Dr. Quintana is one of the Vice Presidents for The Skin Cancer Foundation. Since 1979, The Skin Cancer Foundation has been helping people understand the importance of skin cancer prevention, early detection, and effective treatment. As a key member, Dr. Quintana plays an important role in helping the foundation uphold the highest standards.
For many years she has also been a spokesperson and lecturer, and is well published in peer reviewed journals.
Schedule a Consultation
To schedule a consultation with Board Certified Dermatologist, Dr. Adelle Quintana, contact Laser & Mohs Dermatology of New York. Call our New York City office at 212.391.8600 or contact us here.